The pandemic has impacted almost every aspect of life, including the way we dine. Take-out and delivery were already popular and established dine-at-home options, but consumers still wanted a dining-out experience. Restauranteurs everywhere have turned to outdoor dining—a trend that is here to stay.
The ability to serve diners outside was crucial to keeping restaurants afloat during widespread lockdowns and restrictions. And even though pandemic restrictions have changed, the desire for outdoor dining has remained. In a recent Open Table survey, 82% responded that they want to see outdoor dining and seating options continue to grow. As warm weather approaches, the timing may be right to implement a more permanent, even year-round approach to serving guests outside. This post will discuss four things to consider when creating an outdoor dining experience.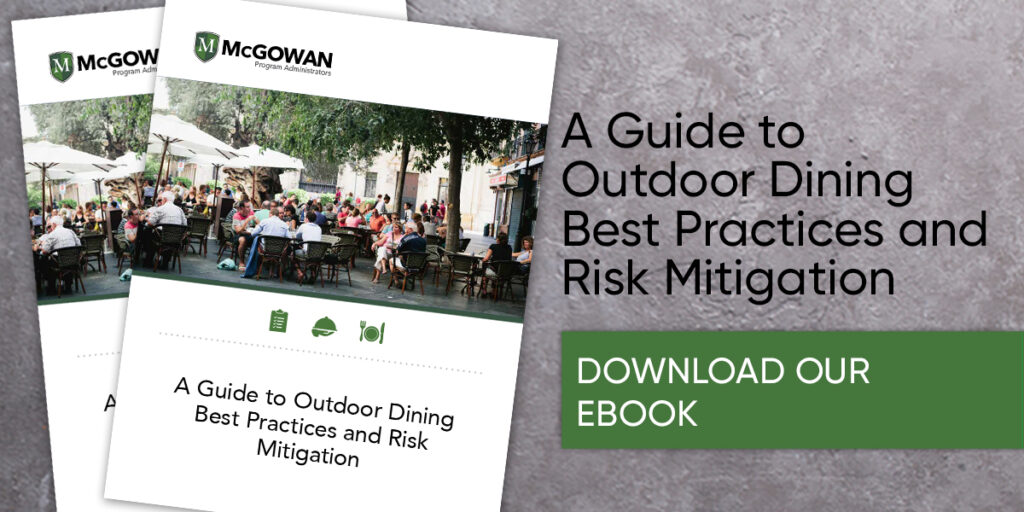 Keep up with outdoor dining trends, but stick to regulations
Many local governments implemented rules and restrictions to keep people safe during the pandemic. However, they also relaxed some rules to help keep businesses running. Restaurants were permitted to establish temporary structures and expand dining spaces to sidewalks and parking lots—one of the more creative and innovative outdoor dining trends. For business owners, implementing these innovative ideas ensured restaurants could keep their doors open during a time of great uncertainty, but adhering to guidelines and policies long-term may prove to be a challenge.
As policies are constantly evolving, it's important to ensure the outdoor dining space is compliant with current regulations. In addition to regular fire and building codes, there may also be new rules in place to address the concerns surrounding the pandemic. In Ontario, a pizzeria was forced to shut down three plastic dining domes because they did not comply with rules that required a certain level of ventilation.
Check in with local authorities to see if your outdoor space is legal. In many cases, carrying certain levels of insurance coverage is required to be compliant. But having a comprehensive policy is important whether it's mandatory or not!
---
---
Factor in staffing levels and employee training
To keep pace with trends, many restaurant owners may rush to design a permanent outdoor dining area. But it's important to take the time and effort to plan accordingly and determine if it will be sustainable. Opening an outdoor space typically results in an increase in capacity and the need for additional staff. During a time when businesses across all industries are struggling to hire and retain employees, hiring new staff to support an expanded dining space may be difficult. An overworked staff increases the risk of accidents and could also affect service and the overall reputation of the business.
Also, keep in mind that new and existing staff must be trained to handle the differences in outdoor service. Specialized training includes learning about safety measures for navigating outdoor structures, dealing with weather, and going in and out of the building frequently. These additional safety concerns may increase the risk of an accident and possibly a workers' comp claim. Check in with your insurance company to determine if your coverage for employees aligns with these considerations.
Prioritize safe design for the outdoor dining space
As the outdoor dining trend continues to spread, innovation is essential to meet the need. A simple canopy or umbrella was once a go-to for outdoor patio spaces. Now, options include plastic bubbles, tents, and yurts. One eatery in Washington D.C. erected a greenhouse to cover their outdoor space.
These solutions provide protection from the elements and an intimate atmosphere, but they're not right for every venue. Available space and budget play an important role. For example, fiberglass igloos can cost around $1,000 and may not provide enough capacity relative to the space they occupy. Due to the typical placement of igloos and similar structures, they may prove to be a hazard. 51% of slip, trip, and fall claims happen in the parking lot or outside of the building.
Weather can also be responsible for accidents and is an important factor in space design. Restaurants must ensure that fixtures and materials will be safe in the case of a storm or rapidly fluctuating temperatures. Outfitting the space to make diners more comfortable in colder or warmer temperatures is essential to using the space year-round. But equipment like large fans or heat lamps brings its own safety challenges.
---
---
Secure up-to-date insurance coverage
Eateries that don't have an existing patio or outdoor dining area may have to get creative to keep pace with popular trends. But not every space is automatically covered by existing insurance policies. Many carriers have limitations and requirements for what they'll cover, such as being within a certain radius of the physical building.
It's also important to think through the risks associated with outdoor eating areas. Potential claims may include:
• Personal injury
• Property damage
• Workers' comp
Before opening a new space—especially if it isn't directly adjacent to the main building—be sure to speak with your insurance provider. Every carrier has different limitations, and sometimes additional coverage is needed to stay protected. McGowan Program Administrators offers Restaurants, Bars, & Taverns Insurance to meet your unique business needs. Reach out to learn more about coverage options.