There are an estimated 330,000 community associations throughout the United States. These groups have various iterations—e.g., Homeowners Associations (HOAs), Condominium Associations, Housing Co-ops, and Timeshare Associations—but each has the same goal, to manage risks to the association to effectively protect, preserve and enhance the common assets. It's critical that HOA boards have the tools they need to effectively manage common elements and the challenges and risks that come with them. The cornerstone to board duties is to place the association's interest above his or her own personal interests as a unit owner.
HOA board members are volunteers. The volunteer board members are almost always unit owners in the association and have a shared interest in common elements with the other unit owner members. Notwithstanding the best intentions, board members often lack the proper experience or training to manage member concerns, maintenance requests, or more serious concerns like litigation. As a result, many boards become ineffectual figureheads or go along with those members who seem to know what they are doing.
With a few relatively simple steps, HOA boards can become more effective and ultimately fulfill their purpose: to manage the association's risk and protect, preserve, and enhance the community association's assets.
HOA board members need to understand their role
Many problems arise because board members may not understand or may be confused about their role. A common assumption is that common sense alone will guide a board should an issue arise. The fact is that many problems that HOA board members deal with don't have intuitive solutions or function by their own set of logic. HOAs are legal entities, and board members must understand the intricacies of their roles to operate effectively and comply with their duties and obligations as a board member.
A simple and recommended way to create a more effective HOA board is to require all new board members to read the governing documents of their HOA. These documents may include articles of incorporation, CC&Rs, bylaws, and other specific community rules that the board is authorized to establish. Consider requiring new members to sign a document stating that they have read the Governing Documents. The board or the Community Association Manager should provide a hard copy binder with each of the governing documents identified above, and their copies of approved meeting meetings for easy reference. They should bring these binders to every meeting. If any of the documents have been changed, the board member should highlight the section and write in the margin which amendment reflects the change.
It is also recommended that the board review and consider having the board review the "Model Code of Ethics for Community Association Board Members" and have each one sign it. This document should also be included in their binder. This Model Code was prepared by members of the College of Community Association Lawyers and reviewed by community association professionals from other industry and the National Board of Trustees.
---
---
Make training a priority
Florida is the only state that mandates board member certification within 90 days of being elected or appointed. This can be done pursuant to board certification classes. However, education should be a priority for effective HOA boards. Board members should be required to attend annual training sessions. Many independent community association management companies include this in their protocols, and if they do not, it is recommended that they implement the requirement as it protects the board and its members. Trainings are also provided by community association attorneys and other professionals such as community association insurance professionals.
A valuable resource for new HOA board members and for senior members seeking a refresher is the Community Associations Institute (CAI). The CAI offers pamphlets and guides that serve as best practices for HOA boards. They now offer online training certification. Boards can join the CAI for minimal cost. There are also 60 plus local chapters around the country that boards are welcome to join. If the board joins CAI, it will automatically become a member of their local home chapter. Most of the chapters have their own websites with a calendar of events, including educational and social events. They also have a directory of business partners that specialize in various issues in your area.
Effective HOA boards transfer risk
When HOA boards do end up in court, the "business judgment" rule is often the deciding factor. This is a defense against allegations of a breach of fiduciary duty or breach of duty and good faith or breach of loyalty. In a nutshell, this rule does not consider whether an HOA board made a correct decision or an incorrect decision, nor does it contemplate that the board made the best decision. A court instead decides if a board acted in good faith to address the issue, bring in the relevant professionals to explain the issues and decide whether or not to take action.
---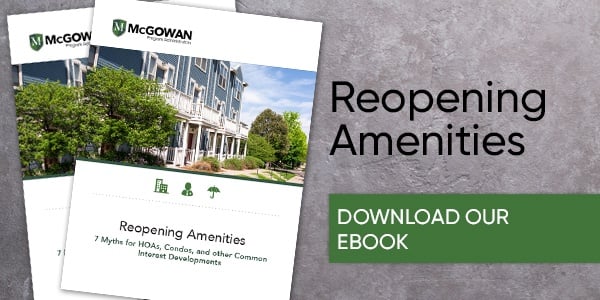 ---
For example, let's say that an HOA board is tasked with installing new sprinklers in a common area. One of the board members runs a landscaping business and could easily handle the project. However, instead of choosing the board member's company, they vote to hire an outside vendor to install the sprinklers. The outside vendor incorrectly installs the sprinklers, leading to a community member being injured when they trip over the faulty sprinklers. The injured member then sues the HOA board. The board would be defended by the general liability carrier. However, the best practice is to require that the outside vendor agree to defend and indemnify the board and association. It I also recommended to, if possible, add the board and the insured association for any matter arising out of the vendor's work.
In this example, a court would most likely rule in favor of the HOA board because they acted in good faith. Rather than choosing the board member for the job, they outsourced it, transferring the risk from the HOA itself to a vendor. If they had hired the board member, the board might have been liable for the mistake, exposing the board to potential litigation.
---
---

Build your HOA board with the right people
It can be a challenge to find qualified volunteer unit owner board members, and it is very rare that governing documents allow individuals other than unit owners, shareholders, or interval owners to sit. If you need advice from a professional such as a lawyer, reserve specialist, insurance professional, banker, or others, independent professionals should be retained as the directors and officers liability policy does not provide coverage for professional services. The independent professional needs his or her own professional liability policy.
A quality HOA board member has the following skills:
Love of the community: A great board member will put the interests of the community association above the unit owner's individual interests and be willing to learn and study issues that are new to the member.
Take the position seriously: The ideal board member wants to better the community and do what is needed to achieve that.
Decide and delegate: Board members must understand that a "board" is a group that discusses, debates, and makes decisions with the entire board at a properly notified board meeting. If required, the board delegates the action required to carry out the decision.
People skills: HOA board members need to be empathetic listeners and ensure that anyone entitled to speak at a meeting has the opportunity to do so with the appropriate limitations. Additionally, members must not comment on the unit owner's share and avoid defaming any speakers.
Civility: Board members must be prepared to diffuse disputes and maintain an environment conducive to clear and productive conversations. It's also
Integrity: Board members must have a strong sense of integrity. It's important that board members understand the weight of their position in the community and set a positive example for others.
Complete transparency: it is imperative to be transparent with the exceptions of personnel or litigation issues.
Management or administrative skills: An HOA is essentially a team, and board members need to know how to motivate their team effectively.
The final step for risk mitigation
Effective HOA boards manage and transfer risk. By choosing the right people, educating them on their role as board members, and transferring risk appropriately, HOA boards can avoid costly litigation or, at the very least, achieve favorable court rulings.
The final step in creating an effective HOA board is to schedule a meeting with an experienced insurance broker. Unfortunately, Directors and Officers (D&O) insurance is quite complex and HOA boards sometimes choose insurance coverage that is insufficient for the needs of their community and board members. By confirming insurance coverage is adequate and up to date, HOAs protect themselves and the members of their community.
McGowan Program Administrators is a leading provider of Community Association Insurance products. The offerings include Directors & Officers Liability and Employment Practice coverage, Fidelity/Crime Insurance, Cyber Liability and Data Breach Insurance, Umbrella Coverage, Special Event Coverage, Single Family HOA insurance, and other policies. Learn more about our Community Association Insurance.