Following the collapse of the real estate market during the Great Recession, this sector of the economy was devastated. As credit lines dried up and the demand for new residential, commercial and industrial buildings disappeared, many construction firms and real estate agencies had to either massively trim back operations or close their doors altogether.
However, since 2008, the real estate market has been making a slow yet steady recovery, despite the considerable stops and starts and fits and jerks. Although there have been issues with housing inventory and a shortage of skilled labor, many economists agree that the real estate market has entered another boom phase.
A renewed real estate market
April 2016 saw sales of new single-family homes surge, with an annual adjusted rate of 619,000, according to a joint release between the U.S. Census Bureau and the U.S. Department of Housing and Urban Development. The strong sales in April represented an increase of 16.6 percent above the revised March numbers, and marks a year-over-year jump of 23.8 percent.
In addition, existing home sales also improved in April for an annual pace of 5.45 million, ABC News reported. This number indicates a solid economy and marks the highest level since January 2008, when the country began slipping into the depths of the Great Recession. Further, new home construction increased 6.6 percent to a seasonally adjusted annual rate of 1.117 million units.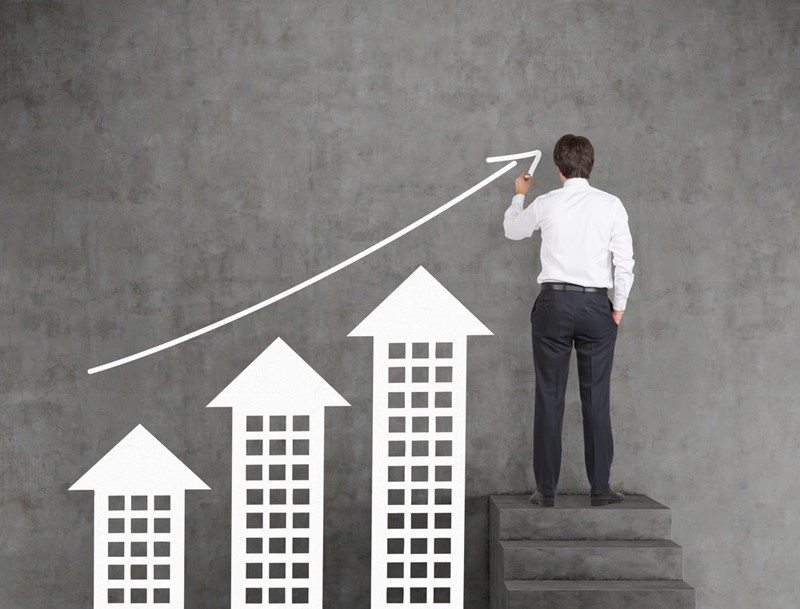 Nonresidential construction strengthening
Not only is the residential real estate market bustling, but nonresidential construction continues to make big strides in its recovery as well. This area, consisting of commercial, industrial, transportation and public sector construction projects, bounced back in the second quarter of 2016 after a dismal showing in the first quarter. According to the FMI Nonresidential Construction Index, this reading surged to improve to a reading of 61.3 during the second quarter after a lackluster 55.6 reading in the first quarter.
The index revealed that construction-sector productivity panelists' outlooks for the markets and overall economic situation each increased from the first quarter, in some cases considerably. With all signs pointing to a recovery, the need for real estate insurance becomes that much more crucial for safeguarding against unforeseen problems and baseless lawsuits.
The need for real estate insurance
As the market continues to heat up and property sales increase, it's important that real estate agents and brokers have the proper insurance protections in place to cover these transactions, whether they're for commercial space, mixed-used buildings, retail shopping centers or something else.
"Even the most scrupulous real estate professional can get dragged into court for inadvertently failing to disclose a defect."
With real estate transactions picking up, it unfortunately boosts the number of buyers who end up disgruntled with the final product. Whether it's undisclosed mold contamination, unknown termite infestations or disputes over the advertised and actual property square acreage. As The Wall Street Journal noted, some real estate agents even get sued for failing to inform a buyer about a murder-suicide that happened in the house years earlier.
Due to the complexity and unexpected pitfalls that accompany every property sale, even the most scrupulous real estate professional can find him or herself dragged into court for inadvertently failing to disclose a defect or breaching a contract.
According to The Wall Street Journal, some of the biggest types of claims underwriters face in the real estate world include:
Contract error
Escrow
Property valuation
Specific performance
Title issues
Water/moisture/mold problems
Structural issues
Investment value
Sewer/well issues
Even if a real estate agent or broker gets snared by a lawsuit over the transaction and a court rules against the dissatisfied plaintiff, it still costs a considerable amount of money to defend against these accusations during a lawsuit—which could potentially be prolonged for years on end.
Finding the right partners
Brokers and agents insuring real estate compounds need to ensure they're providing the most robust coverages for owners and managers running these operations. With too many potential problems that could arise, not having the proper safeguards in place can be financially ruinous for companies handling real estate transactions.
McGowan Program Administrators is a leading provider of real estate insurance nationwide, including property & general liability insurance and umbrella insurance. With our ability to write innovative insurance programs specially tailored for all of your real estate needs, insurance brokers and agents working with real estate brokers and agents can provide coverage for all commercial buildings in a single comprehensive plan. This eliminates the costly and redundant practice of obtaining difference policies for each individual building.
Save
Save